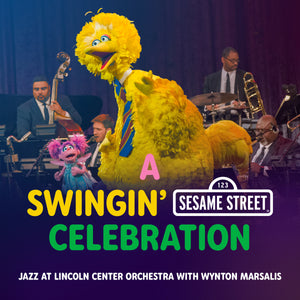 A Swingin' Sesame Street Celebration
Regular price $11.98 Sale
This recording is only available as an MP3 or hi-res WAV digital download.
Access the digital booklet and liner notes.
 ******************************************************************************* 
Jazz great Wynton Marsalis has been a frequent guest on Sesame Street—and now, to celebrate the 50th anniversary of the landmark series, he's returning the favor. On A Swingin' Sesame Street Celebration, Marsalis and the Jazz at Lincoln Center Orchestra host the Sesame Street gang in the "House of Swing" for a big band salute to a very special show.

On this digital album, which accompanies the release of a concert film by the same name, the Jazz at Lincoln Center Orchestra's fresh arrangements of classic Sesame Street songs reveal the timeless appeal of the program's repertoire. The concert assembles a star-studded lineup of Sesame Street stars—including Elmo, Abby, Big Bird, Bert & Ernie, and many more—to perform beloved tunes like "Rubber Duckie," "I Don't Want to Live on the Moon," and "Elmo's Song."

No one is too young or too old to enjoy this hilarious, soulful, and joyous music—so be a part of our neighborhood and celebrate five decades of Sesame Street in swingin' style.
Track Listing
1. Sesame Street Theme
2. Rubber Duckie
3. It Feels Good (When You Sing a Song)
4. Sing After Me
5. One of These Things
6. Elmo's Song
7. I Don't Want to Live on the Moon
8. Put Down the Duckie
9. Ladybugs' Picnic
10. People in Your Neighborhood
11. Pinball Number Count
12. Believe in Yourself
13. Sing
Personnel
THE JAZZ AT LINCOLN CENTER ORCHESTRA WITH WYNTON MARSALIS 
REEDS
Sherman Irby (alto saxophone, clarinet, and flute)
Ted Nash (alto & saxophone saxophones, clarinet, flute, and piccolo)
Victor Goines (tenor saxophone, clarinet, and bass clarinet)
+Walter Blanding (tenor saxophone)
*Janelle Reichman – tenor saxophone and clarinet
Paul Nedzela – baritone saxophone, clarinet, and bass clarinet
TRUMPETS
*Ryan Kisor 
Marcus Printup
Kenny Rampton
Wynton Marsalis (music director)

TROMBONES
Vincent Gardner - trombone and sousaphone
Chris Crenshaw - trombone and bass trombone
Elliot Mason - trombone and bass trumpet

RHYTHM SECTION
Dan Nimmer (piano)
Carlos Henriquez (bass and vocals)
*Jason Marsalis (drums)

+did not perform in this concert
*Indicates substitute orchestra member