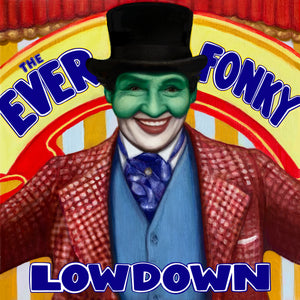 The Ever Fonky Lowdown
Regular price $19.99 Sale
This recording is only available as an MP3 or hi-res WAV digital download.
Access the digital booklet and liner notes

*******************************************************************************
"You really just want to be entertained," says Mr. Game, the sly hustler-narrator played by acclaimed actor Wendell Pierce (
The Wire
, 
Treme
,
 Jack Ryan
) who presides over Wynton Marsalis's new masterpiece
 The Ever Fonky Lowdown
. Combining droll commentary with soulful, big band-backed vocals, the 
Lowdown
 is definitely entertaining—but it also brilliantly reveals Marsalis's incisive, panoramic view of modern society.

Featuring the Jazz at Lincoln Center Orchestra and guest vocals from Camille Thurman, Ashley Pezzotti, Christie Dashiell, and Doug Wamble, the 
Lowdown
 is a funky jazz parable for 2020. It covers terrain from football to politics, from power to poverty, from love and romance to betrayal and corruption; it will make you dance 
and
 think. The 
Ever Fonky
Lowdown
 is a horn-fueled survey of the political malaise and cultural decay now plaguing America—and how Marsalis suggests we might be able to rise above the structures that have been holding us back for centuries.
Track listing
We Are the Greatest (Instrumental)
Mr. Game Speaks: I Am a Winner
We Are the Greatest 
Mr. Game: Success Is My Middle Name
They/Let's Call Them This 
Mr. Game: Beware! They're Going to Cause Problems
The Ever Fonky Lowdown in 4
Mr. Game: Talk Is a Waste of Time
I Don't Like Nobody but Myself
Mr. Game: We Must Strike First! (Trust Me)
The Drums of War
Mr. Game: The Mandates of Our Democracy
Consideration Blues/I Know I Must Fight/The Drums of War Return
Mr. Game: Who Is We?
What Would the Savior Think?
Mr. Game: Winners Don't Reflect, We Celebrate
Some for Me, None for You
Mr. Game: We're Number One!
The Ever Fonky Lowdown in 5
Mr. Game: They Deserved Everything They Got
Night Trader
Mr. Game: They, Too, Want to Be Winners
Mr. Good Time Man
Mr. Game: Shame Is for Losers
Because I Want to, Because I Like to, Because I Can
Mr. Game: A Ridiculous Plea
I Wants My Ice Cream 
Mr. Game: Somebody's Got to Rule
The Ever Fonky Lowdown in 6
Reprise: What Would the Savior Think?
The Ever Fonky Lowdown in 5 & 6
Mr. Game: Your First Prize
Isms, Schisms
Mr. Game: Your Second Prize
Yes/No
Where Has the Love Gone?
Mr. Game: Your Third Prize
Consider This 'Bout the Filth We Love
Mr. Game: Your Fourth Prize
Everybody Wear They Mask
Mr. Game: You Love These Prizes Because You Live Them
The Ever Fonky Lowdown in 7
Mr. Game: Your Wildcard
I Got a Nagging Feeling
Mr. Game: The Freedom Fighter: Fannie Lou Hamer
The Ballad of Fannie Lou: Part 1
The Ballad of Fannie Lou: Part 2 
Mr. Game: Just Let the Memories of Them Die
Why Do We Pick Slavery over Freedom?
Mr. Game: Your Last Prize (The Best One)
Reprise: The Ever Fonky Lowdown in 4 
Reprise: I Wants My Ice Cream
I Know I Must Fight 
Personnel
THE JAZZ AT LINCOLN CENTER ORCHESTRA WITH WYNTON MARSALIS  
2019-20 CONCERT SEASON 
REEDS
Sherman Irby – alto saxophone, clarinet, flute, and piccolo
Ted Nash – alto saxophone, clarinet, flute, and piccolo
Victor Goines – tenor and soprano saxophones, bass clarinet, and clarinet
†Walter Blanding – tenor saxophone
*Dan Block – tenor and soprano saxophones and clarinet
Paul Nedzela – baritone saxophone and Bb and bass clarinets
TRUMPETS
Ryan Kisor
Marcus Printup
Kenny Rampton
Wynton Marsalis
TROMBONES
Vincent Gardner –
trombone and sousaphone
Chris Crenshaw
Elliot Mason
RHYTHM SECTION
Doug Wamble – guitar and vocals
Jason Marsalis –
drums and tambourine
SPECIAL GUESTS
Christie Dashiell
–
vocals
Ricky "Dirty Red" Gordon – percussion
>Bobby Allende – percussion
Additional performances from:
Sam Chess – trombone (track 7)
Adam Birnbaum – piano (tracks 7, 35, 42, 51)
Charles Goold – drums (track 35)
†Did not perform at this recording session  
"A particularly important album in the moment that we find ourselves in...I recommend it highly. When everything is in teams - Democrats and Republicans, Blue and Red, Black and White - [Wynton] is pushing against that in this atmosphere." - Bill Maher on Real Time with Bill Maher
"An amazing record that speaks to our moment. A wonderfully cohesive album that is riveting from front to back." - Jazziz
"Best Wynton record in years. Is America ready for the wit and knowingness of Wynton's very own Fables of Faubus?" - Marlbank
"...Lowdown is an unmistakable call to what Marsalis has repeatedly called for acuity to recognize 'what is going on.'"- London Jazz