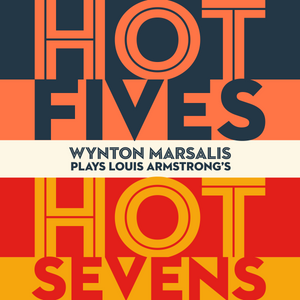 Wynton Marsalis Plays Louis Armstrong's Hot Fives and Hot Sevens
Regular price $11.98 Sale
Access the digital booklet and liner notes.
Recorded in the 1920s, Louis Armstrong's Hot Fives and Hot Sevens sides are still hailed as some of the greatest and most influential jazz sessions ever captured; musicians obsess over their warmth, wit, and joy to this day. A new live recording by Wynton Marsalis—another acclaimed New Orleans trumpeter—reimagines classics from those sessions like "Basin Street Blues," "St. James Infirmary," and "Heebie Jeebies" for a whole new generation of audiences.
Performed in 2006, Wynton Marsalis Plays Louis Armstrong's Hot Fives and Sevens assembles an all-star band of Marsalis collaborators (like trombonist Wycliffe Gordon and pianist Jon Batiste) who, together, recreate the magic of Armstrong's seminal ensembles. There are perhaps no better interpreters of Armstrong's legacy than Marsalis and his fellow musicians; and, through transposing the timeless music of the 1920s to the 21st century, these expert players deliver technically flawless performances and prove Marsalis' assertion that all eras of jazz are integrated.
Track Listing
1. Potato Head Blues
2. Twelfth Street Rag
3. Skid-Dat-De-Dat
6. Weary Blues
7. Melancholy Blues
8. Heebie Jeebies
9. Once In A While
10. Ory's Creole Trombone
11. Basin Street Blues
12. Savoy Blues
13. Cornet Chop Suey
Personnel 
Wynton Marsalis – Trumpet & Vocals
Wycliffe Gordon – Tuba, Trombone, and Vocals
Vincent Gardner – Trombone
Victor Goines – Clarinet
Walter Blanding –Tenor & Soprano Saxophones
"Papa" Don Vappie – Banjo & Guitar
Jonathan Batiste – Piano
Carlos Henriquez – Bass
Ali Jackson – Drums
"It is a model of how to breathe new life into classic jazz repertoire." - The New York City Jazz Record