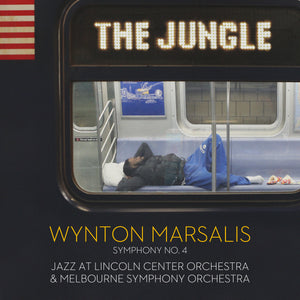 The Jungle
Regular price $11.98 Sale
This recording is only available as an MP3 or hi-res WAV digital download.
Access the digital booklet and liner notes.
New York City is the most fluid, pressure-packed, and cosmopolitan metropolis the modern world has ever seen," says Wynton Marsalis. No wonder, then, that the city inspired what is perhaps the composer's greatest work to date: The Jungle, his fourth symphony, which receives its first recorded release this May on Blue Engine Records.
Captured in 2019, this inspired performance of The Jungle was conducted by Nicholas Buc and features the Jazz at Lincoln Center Orchestra with Wynton Marsalis alongside the Melbourne Symphony Orchestra in Melbourne's Hamer Hall. Marsalis's masterwork highlights the paradoxes that define New York City, where wealth and poverty, grit and romance, and unlimited growth and stagnation all coexist. But it's also a meditation on what being human means today—a widescale attempt to understand the maelstrom of modern life and remind listeners of what brings us together.
"More than just Marsalis' best symphony, 'The Jungle' also feels like one of his most distinguished works, period.. I wouldn't wish it a minute shorter." - The New York Times
"The composite style is a marvel." - The New York Times

"There is no stopping Wynton Marsalis." - Financial Times
"That is what we get in his music, a very substantial (more than an hour in duration) symphony of irrepressible energy, grit and drive." - Financial Times
"[T]he music surges with power… which has Ellingtonian grandeur and the energy of a ballet." - Stereogum
Track Listing
1. Movement I: The Big Scream (Black Elk Speaks)
2. Movement II: The Big Show
3. Movement III: Lost in Sight (Post-Pastoral)
4. Movement IV: La Esquina
5. Movement V: Us
6. Movement VI: Struggle in the Digital Market
PERSONNEL:
The Melbourne Symphony Orchestra
Jazz at Lincoln Center Orchestra with Wynton Marsalis
Conducted by Nicholas Buc