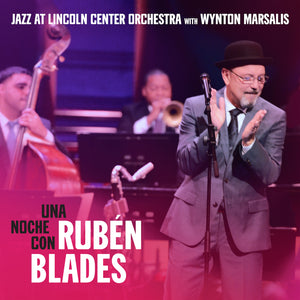 Una Noche con Rubén Blades
Regular price $14.98 Sale
Access the digital booklet and liner notes.
*******************************************************************************
Late in 2014, the Jazz at Lincoln Center Orchestra with Wynton Marsalis welcomed a very special guest to their Manhattan stage: nine-time GRAMMY winning singer, songwriter, actor, and activist Rubén Blades. For one unforgettable night—music-directed by the JLCO's bassist and "emerging master in the Latin jazz idiom" (DownBeat) Carlos Henriquez—the worlds of salsa and swing collided. Backed by one of the world's leading big bands, Blades took the audience on a tour through his greatest hits. In their write-up of the show, the New York Times said "Mr. Henriquez's arrangements delivered consistently... Radically beautiful."
Now, Una Noche con Rubén Blades captures this historic concert in CD and digital formats. The album finds the Maestro singing some of his own beloved compositions, including "Pedro Navaja," "Patria," and "El Cantante," as well as swinging through standards like "Too Close for Comfort" and "Begin the Beguine," all while backed by the Downbeat Reader's Poll Big Band of the Year (2013, '14, & '15). Pick up this kaleidoscopic, momentous collaboration between two of our most soulful musicians.
Track listing
Carlos Henriquez Introduction
Ban Ban Quere
Too Close For Comfort
El Cantante
I Can't Give You Anything But Love
Apóyate en Mi Alma
Pedro Navaja
Begin the Beguine
Sin Tu Cariño
Ruben's Medley: Ligia Elena / El Número 6 / Juan Pachanga
Patria (Encore)
"The lead single, "Ban Ban Quere," was first debuted in percussionist Ray Baretto's 1975 album, Barretto; Blades revives this classic song with dizzying arrangements by renowned Orchestra bassist, Carlos Henriquez. Orchestra trumpeter Wynton Marsalis ramps up the song's apex with a blazing solo, ascending higher and higher until the brass emits a resounding shriek." – Rolling Stone
"On Una Noche Con Rubén Blades, the Jazz and Lincoln Center Orchestra sparkles, as usual, under the direction of trumpeter Wynton Marsalis. In this case, significant credit also goes to the orchestra's bassist, Carlos Henriquez, who helped Blades conceive the album, did the musical arrangements and so expertly lays down the jazz walking-bass musical figure, as well as a deeply infectious Afro-Cuban tumbao. By echoing both jazz masters like Ray Brown and the unheralded Afro-Cuban bassist Bobby Rodriguez, Henriquez is a living example of the compatibility of the two genres. It all comes together flawlessly in the new album, which explores a bit of musical history and features yet another talent from an already-multifaceted musical icon." – NPR Music
"Ruben Blades surrounds himself with a robust music ensemble: Jazz at The Lincoln Center Orquestra with Wynton Marsalis who put a new spin on his classics." - Billboard
"The performance, which includes numbers penned by Blades and tunes from the Great American Songbook, seriously sizzles.
[Blades] dominates. His command as a vocal stylist, singing first in English and then in Spanish, is beyond reproach." - JazzTimes