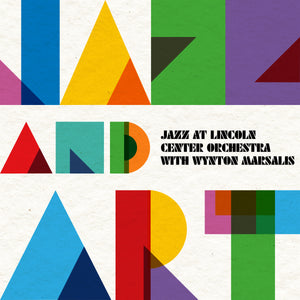 Jazz and Art (DIGITAL ONLY)
Regular price $11.98 Sale
This recording is only available as an MP3 or hi-res WAV digital download.
Access the digital booklet and liner notes.
******************************************************************************* 
Capturing a series of 2010 concerts that the New York Times called "soulful," "evocative," and "playing directly to the band's strengths," the new Jazz at Lincoln Center Orchestra with Wynton Marsalis record showcases performances of original compositions inspired by masters of modern art including Romare Bearden, Stuart Davis, Sam Gilliam, Winslow Homer, Wifredo Lam, Norman Lewis and Piet Mondrian
GRAMMY Award-winner and Jazz at Lincoln Center Orchestra member Ted Nash says, "Music and paintings share so many characteristics; textures, colors, layers, line, form, shape. No wonder they are such agreeable collaborators. When these two art forms come together, they create a new medium."
Jazz and Art displays impressive musicianship and a range of musical styles, from modern jazz to gospel, American pastoral music, Afro-Cuban, spirituals, New Orleans, Indian chants, avant garde, and beyond. The compositions were inspired by works of art from beloved museums such as The Guggenheim, The Metropolitan Museum of Art, and the Museum of Modern Art.

Track listing
1. Stuart Davis for the Masses: The Mellow Pad
2. Stuart Davis for the Masses: Garage Lights
3. Stuart Davis for the Masses: New York
4. Blue Twirl
5. Bearden (The Block)
6. Air, Earth, Fire, Water (Orisha Medley)
7. Winslow Homer: Homer's Waltz
8. Winslow Homer: Homer's Blues
9. The Repose in All Things
10. Twilight Sounds