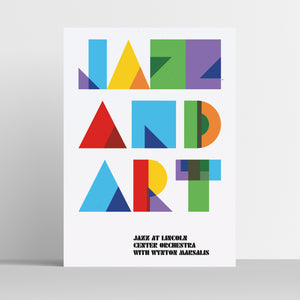 Jazz and Art Poster (18" x 24") with MP3 Album Download
Regular price $35.00 Sale
To commemorate Jazz and Art, the recent Blue Engine release from the Jazz at Lincoln Center Orchestra with Wynton Marsalis, we are excited to announce a collectible, 18"x24" poster of the cover art. This limited-edition print (only 200 are for sale) on premium French Paper is the perfect addition to any jazz of are lover's collection!
The poster comes with a FREE MP3 download of the Jazz and Art record.
As JLCO member Ted Nash says, "Music and paintings share so many characteristics; textures, colors, layers, line, form, shape. No wonder they are such agreeable collaborators. While these two art forms come together, they create a new medium."
Specs: 18" x 24" premium 4-color poster on French Paper, Speckletone Starch White, 100lb.