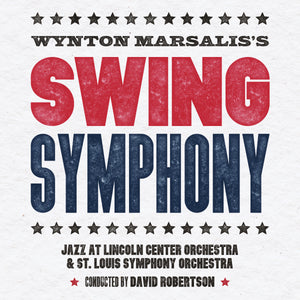 Swing Symphony (DIGITAL ONLY)
Regular price $11.98 Sale
**A New York Times Best Classical Album of 2019**
******************************************************************************* 
This recording is only available as an MP3 or hi-res WAV digital download.
Access the digital booklet and liner notes.
******************************************************************************* 
When Wynton Marsalis was commissioned to compose his third symphony, he took inspiration from composers like Ives, Gershwin, Copland, Bernstein, and Ellington as he sought to create a musical meditation on American ideals. The definitive performance of the resulting, critically acclaimed work—Swing Symphony—is now an album by the Jazz at Lincoln Center Orchestra and St. Louis Symphony Orchestra, conducted by maestro David Robertson. 
Commissioned in 2010 by the Berlin Philharmonic, the London Symphony Orchestra, the New York Philharmonic, and the Los Angeles Philharmonic, Marsalis's Symphony No. 3 is at once invigorating and elegiac, bombastic and introspective, and has been performed by orchestras around the world. This recording, which took place in front of a rapturous, sold-out crowd in St. Louis's Powell Hall, marks the very first release of a modern classic that captures the full breadth of 20th-century orchestral music and the spirit of American optimism.
Track listing:

Movement I: St. Louis to New Orleans
Movement II: All-American Pep
Movement III: Midwestern Moods
Movement IV: Manhattan to LA
Movement V: Modern Modes and the Midnight Moan
Movement VI: Think-Space: Theory
Movement VII: The Low Down (Up on High)