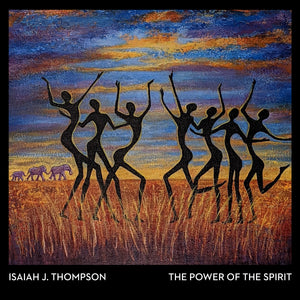 Isaiah J. Thompson: The Power of the Spirit
Regular price $14.98 Sale
Access the digital booklet and liner notes.
"A young musician and composer with a mature touch and rare combination of talent, creativity, humility and honesty" (NPR), pianist Isaiah J. Thompson is an emerging generational talent. This March, his first live album—The Power of the Spirit—is coming out on Blue Engine Records.
Captured in front of a rapturous audience at Jazz at Lincoln Center's Dizzy's Club, The Power of the Spirit finds Thompson's seasoned quartet delivering a locked-in performance of their hard-bop repertoire. On full display are the pianist's stunning dexterity and soulful original material; combining crisp technicality with a gospel-inflected sound, Thompson nods to forebears like Bobby Timmons, Phineas Newborn Jr., and Cedar Walton while blazing a trail all his own.
Thompson has played with legends including Wynton Marsalis, Christian McBride, Steve Turre, John Pizzarelli, and Buster Williams; you've seen his Tiny Desk concert and heard him as a special guest on the Jazz at Lincoln Center Orchestra's Handful of Keys. Now, get ready for the powerhouse personal statement that is The Power of the Spirit.

Track Listing
1. Welcome
2. The IT Department
3. The Soul Messenger
4. For Phineas (Intro)
5. For Phineas
6. Tales of the Elephant and Butterfly
7. Good Intentions (Learn our names, Say them right)
8. Thank You Betsy
9. The Power of the Spirit
Personnel
Isaiah J. Thompson, piano
Julian Lee, tenor saxophone
Phillip Norris, bass
TJ Reddick, drums (tracks 2, 3, & 9)
Domo Branch, drums (tracks 5, 6, 7, & 8)